Marketing Deals for QLD Parks
Increase occupancy & improve your brand
Up to 60% off our usual rates!

Only a few days left!
Social Media, Websites, Photography, Monthly Support & More!
PRICES INCREASE 2 JUNE 2021
Need help with your social?
Want more website & booking traffic?
Is your website hard to update & not ranking well for search?
Are your photos outdated, and not doing your park justice?
Does your park mud map give guests anxiety at check in instead of a relaxed sense of arrival?

To celebrate our partnership with Caravanning Qld, we've put together some HUGE one-time-only deals and discounts exclusively for Qld Holiday Parks!
(you don't need to be a cpaq member)
Take advantage of these impressive deals and save up to 60% off our usual rates!
PRICES INCREASE 2 JUNE 2021
We're rated 5 stars by the parks we work with!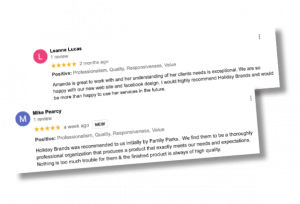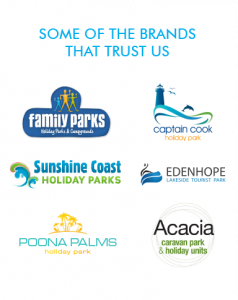 Get Started With A Message
Did you hear?
Amanda, our lead marketer & designer, was just recognised as a finalist in the prestigious 2021 Australian Caravan Industry Future Leaders Awards for the marketing results she has been achieving with parks'!
We've also been featured in the

for our results!
When you choose Holiday Brands, you can trust you're in good hands. We work with you for results driven marketing & branding.