HOW TO:  Get your matching .au domain now!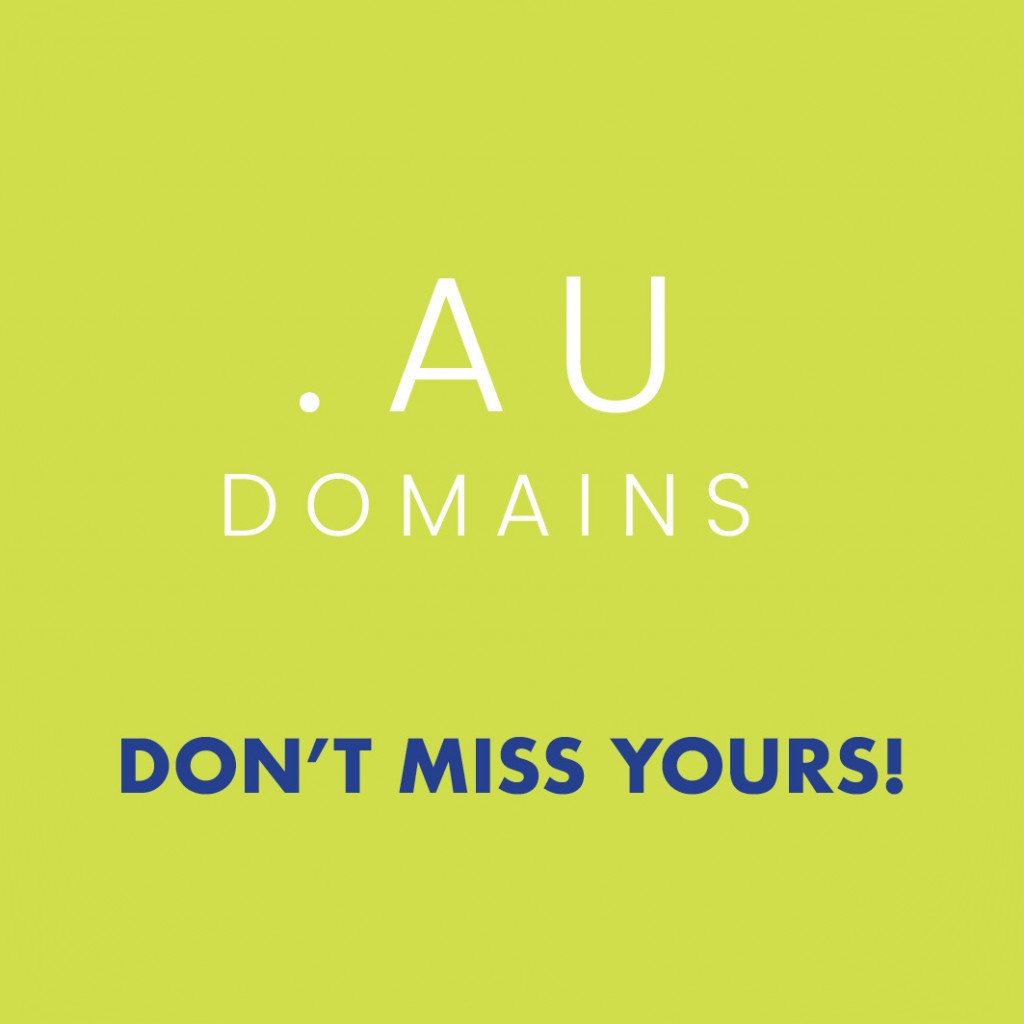 IMPORTANT NOTICE REGARDING .AU DOMAINS.
We're here to help you protect and maximise your brand. So here's your reminder to register for your .AU domain if you haven't already.
Here's the information information you need:
If you own the .com.au or .net.au version of a web address you can register for priority acceptance of your matching .AU domain.
Do not wait. 
This is a dedicated top level domain for Australian sites and will have the potential to rank as high or higher than a .com.au domain.
Without it you also risk others setting up dummy diversion sites for your business, or worst yet, competitors snatching it and diverting it to their own once they go out for public registration in October.
Also note if you have the .com.au or a .net.au, or both, and no one has the other, you'll automatically secure and register your .au.
If you have one, and another company has the other, you'll both need priority registration and then be expected to negotiate to agree on who withdraws and who 'gets it' after 20 September.
Reach out if you need help with this!
Here's what you need to do:
1) Check your eligibility/status
Go to this page and type in your domain with .AU to check your priority availability and if you've registered or not
https://www.auda.org.au/tools/priority-status-tool
This will show who's eligible to register the .AU of your domain.
2) Register your .au version
Jump on to an authorized resellers website – like Go Daddy or Crazy Domains and register your .AU domain.
(If your hosting is with Siteground or another provider, you'll need to set up a new account with these registrars as only a small number of registrars are able to offer the .au domain before 20 September)
Crazy domains will attempt to match your registration information for immediate registration which is helpful, but we found Go Daddy to be the most successful and reassuring.
GoDaddy will ask you to visit a second AUDA page on checkout process (check for a blue text link) where you will type in your .com.au domain and it will send a link to the registered owners email (this should be yours) to generate a random token.
This token is then copied back in to the checkout page to confirm your eligibility and activate the registration or confirm your priority status.
Before you attempt to register also please ensure your current domain ownership details are up to date first so that you receive the ownership email confirmation. You can check this at https://www.whois.com/whois/
Once you're done you can check back on the priority status page in a few hours to confirm you've registered, or if you have no competition you should get confirmation of your .au registration right away.
After you've secured your .au domain, we recommend forwarding this to your current site so you catch all potential traffic!
Please feel free to contact us if you get stuck with this and we can help ([email protected])
---
Here's some additional info on the .AU domains.
https://www.smartcompany.com.au/industries/information-technology/dot-au-warning-auda-domain-name-url-cosboa-asbfeo/?fbclid=IwAR0zUMC6oPSeCVCBPsaslexTxemIbwnIEi6EOdgYsN8sKV45lwrj39LL4mI